2016 Spring Music Festival April 1st, 2nd and 3rd in Whippany, NJ
AAMS ANNOUNCEMENT............2016 AAMS FESTIVAL - APRIL 1, 2, 3, 2016..........................
AAMS has just released its festival itinerary, including WORKSHOPS, CONCERTS, HONOREE BANQUET, FESTIVAL ORCHESTRA and more.
Do not miss the exciting Friday Night Irish Experience Concert featuring the Irish Accordion and Guitar Duo of John McGillian and Darin Kelly. Also appearing Bob & Anita Siarkowski, Dee Langley, Irish Madrigals, Westmont Accordion Club and the WPAO all with totally Irish programs. Lou Persic will provide pre-concert music beginning at 7:30 PM. for the non irish.
Saturday Evening will present AAMS Guest Of Honor, Linda Soley Reed, who will conduct the Festival Orchestra 2016. Everyone is invited to participate in the orchestra. Contact Linda (lsoleyreed@gmail.com) or Joanna Darrow (acmeaccordion@comcast.net) for music. Pre-Dinner music will be provided by Don Gerunda, Dinner Music by Lou Coppola and the Strolling Strings. Joe Natoli, Mary Tokarski, and Eddie Montiero and the WPAO will captivate your attention with exciting performances thru-out the evening.
Workshops will begin Friday evening with "Jigs, Reels, Politics & Religion!" presented by Bob Lijana and Dean Ratzin. Saturday workshops include Paul Ramunni with "Secrets of the Accordion - What Makes the Instrument so Special" ,
followed by Dallas Vietty 'Playing Off the Page', Joe Natoli with"Inexpensive Studio Quality Recording at Home",
Music Educator Anthony Mazzocchi -GRAMMY® nominated music educator, and Linda Soley Reed2 Hour Festival Orchestra Rehearsal. Sunday workshops are Paul Ramunni"Secrets of the Accordion -Part 2, Dee LangleyPart One:Using Your Ear to Memorize Melody, and Part Two Using your Ear to Memorize Harmony .Anthony Mazzocchi Part Two .
All attendees of the AAMS are invited to attend an Open Meeting of the AAA held at 3 PM.
Below are all the information documents in PDF format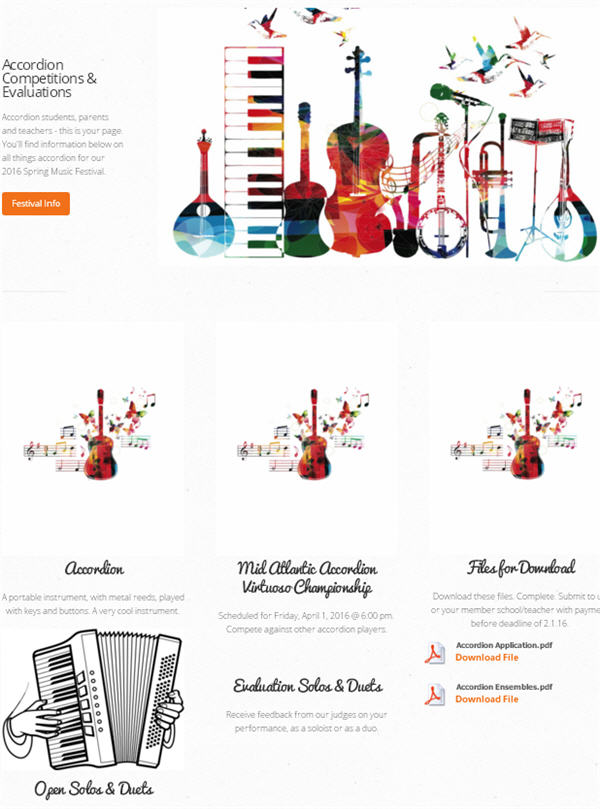 For More Information
Joanna Arnold Darrow
322 Haddon Avenue
Westmont, NJ 08108
Call: (856)854-6628
acmeaccordion@comcast.net
---